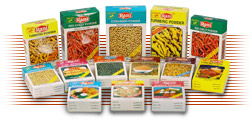 Rani Food Products have come up with some excellent curry powders. The superior quality packing helps in retaining the flavour for a long time.


Chicken Masala
A mixture of many spices this is the ideal solution for the modern women. An excellent powder, which will help you make many mouth-watering chicken recipes.


Meat Masala
An excellent masala powder for all your meat preparations.


Tandoori Chicken Masala
Now you can make tandoori chicken at home with Rani Tandoori Chicken Masala.

Chicken Fry Masala
Another time saver for the workingwomen, this masala can save you precious time.


Channa Masala
We have a range of North Indian curry powders also. This is one such masala for you.


Biriyani Masala
For the avid biriyani lovers, here is an excellent powder to make mouth watering biriyanis.


Vegetable Masala
Excellent masala for all your vegetable preparations.


Fish Masala
This is also a time saver, the masala has all the ingredients for your favourite fish curry. Just follow the instructions in the packet to make excellent fish curry.


Sambar Powder
Premium spices are used to produce this excellent sambar powder.


Rasam Powder
An wonderful combination of different spices to make your favourite rasam.


Garam Masala
Spices are handpicked to make the best Garam Masala.